Chiropractor Michiru Forbess D.C.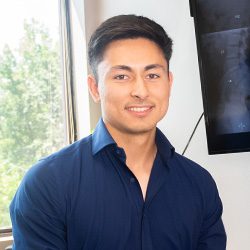 Doctor Michiru Forbess is a chiropractor at Elevation Chiropractic in Little Rock was born in Japan and moved to Central Arkansas when he was 7 years old.  He graduated from Benton High School and went on to receive his college education at Ouachita Baptist University.  At Ouachita, Dr. Forbess received a Bachelor of Science degree in Biology with a minor in Chemistry while being a member of the Ouachita soccer team for 4 years. 
During his time at Ouachita, Dr. Forbess became interested in healthful living and decided to devote his career to helping people live healthy lives. Upon graduating from Ouachita, he enrolled at Parker University, where he obtained his Doctorate in Chiropractic.
Dr. Forbess was drawn to the Gonstead system of chiropractic due to its thorough spinal examination, which is used in every patient visit, and the safe, specific nature of the Gonstead adjustment. He was amazed at the confidence with which Gonstead chiropractors are able to identify problems in the spine and, more importantly, explain what is happening and how it is impacting the overall health of the individual. During his time at Parker University, Dr. Forbess spent over 300 hours outside of school learning the Gonstead system of chiropractic. He also served in a leadership role within the Gonstead club. He continues to attend seminars in order to further his education as a chiropractor.
Realizing that there is a need for Gonstead chiropractic in Central Arkansas, Dr. Forbess returned to the state after graduating from Parker University to found Elevation Chiropractic and provide care to Central Arkansas families using this world-renowned chiropractic system. His mission is to help build happy, healthy families in Central Arkansas through Gonstead chiropractic care.
In his free time, Dr. Forbess enjoys watching and playing soccer and basketball, being active (especially if it's outdoors), and reading. When you see him, be sure to ask him what he is currently reading and who his favorite teams are!
OFFICE HOURS
---
Monday
7:00am - 6:00pm
---
Tuesday
3:00pm - 6:00pm
---
Wednesday
8:00am - 6:00pm
---
Thursday
11:00am - 6:00pm
---
Friday
7:00am - 2:00pm
---
Saturday 
By Appointment

---
Sunday
Closed